Online Sailracing!
Sailonline.org is owned and operated by Sailonline NavSim AB, a not for profit, community-owned company.
Sailonline's mission is to offer a superior internet-based sailing and navigation simulation to the global sailing community, whilst ensuring a future of growth and continuous enhancement to benefit its users through financial viability and long term vision.
All Sailonline boats and their properties are purely virtual and do not necessarily reflect real world data.
Sailonline is free for everyone to play and is supported by SYC Memberships.
Create your account
News from the blog
Welcome!
Now login with our guest account to view currently running races: Username: guest - Password: guest
PLEASE ONLY REGISTER YOUR OWN USERNAME AND PASSWORD IF YOU INTEND TO RACE.
All times on Sailonline are in UTC

GDPR - General Data Protection Regulations - Sailonline wishes to reassure all SOLers that it is aware of the regulation changes in relation to the protection of personal data. Sailonline cares about your privacy and will continue to let you control the personal information you provide. More info here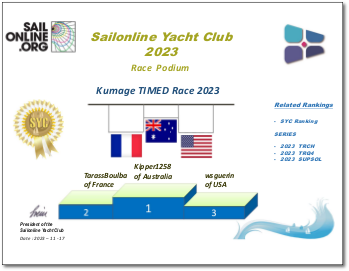 click on results image to see larger
CONGRATULATIONS Kipper1258 !!!
FELICITATIONS TarassBoulba !! CONGRATULATIONS wsguerin !

Race Leaderboard
Commentary
A total of 79 SOLers had at least one go at circumnavigating Japan's Kumage island, appropriately enough aboard Fareast 28R yachts. By the 12th of November, it very much looked like further attempts at a fast lap were going to be unsuccessful, but then came the evening of Friday 17th in Europe, when in America the work of the week was far from over, and Australasia was already fast asleep.

And so it happened that a few alert European set off in pursuit of Australian Kipper1258's best time of 4 hours 45 minutes and 43 seconds of the 12th, and one of these wakeful watchers nearly beat it, but not quite. Dommage, quatre secondes, TarassBoulba, but good onya, Kipper1258, and honourable mention, wsguerin!

WANTED – OPERATIONS MONITORS

We are changing how we organize our race management 'behind the scenes' at Sailonline in 2024. These changes will be various and announced later.

One change will be the introduction of a new role, for which we are seeking a number of volunteers.

– OPERATIONS MONITORS –

It is not a difficult nor a time-consuming role. It simply requires volunteers to double-check that the actions (so-called DBAs) to OPERATE a PLANNED race have been timely set.

Each OPERATIONS MONITOR volunteer will be issued (by means of daily email) a list of the set DBAs pending 'execution' with date that they will execute.
He/she will need to be familiar with the Quarterly Calendar.
He/she will also hold a copy of the SETUP TIMETABLE which sets out the agreed lead times for launching and then closing a race by type
(OCEAN, SPRINT, TIMED, BUDDY, OTHER).
If he/she finds DBAs are delayed, he/she contacts Sailonline's PRO (bonknhoot), copying the COOrdinator ( WINSTON_4). Next day, on issue of the new pending DBAs email, he/checks that the situation has been rectified.

An OPERATIONS MONITOR will be on 'deck' for a week (ideally only one week every six or seven) to be relieved by the next volunteer according to the roster that will be organized by the COOrdinator according to the availabilities indicated by the volunteers.

Training will be held by the COOrdinator and will take 15 minutes. These new roles will be very very important for the continuing integrity of the platform, but will require only very very light and occasional work for each of the volunteers.

To volunteer, please email coord@sailonline.org.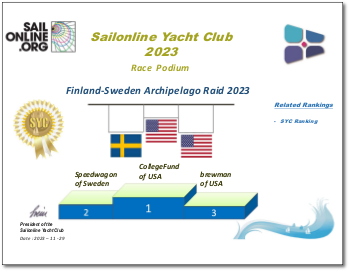 click on results image to see larger
CONGRATULATIONS CollegeFund !!!
GRATTIS Speedwagon !! CONGRATULATIONS brewman !

Race Leaderboard
Reports

Commentary
Embarking on this daring adventure required a special breed of sailors – those either exceptionally brave or blissfully clueless. Out of the 62 racers who set sail on time, only 35 successfully navigated their way to the finish line, meticulously rounding all 21 waypoints in the correct order and direction. The key to triumph rested on a delicate balance: staying vigilant or configuring precise DC.s, and ideally, executing both strategies.

It's worth noting that the racing area in real life (IRL) is infinitely more intricate than the simplified SOL map suggests. A glimpse at the navigation charts northwest of Korpo, accessible here: Navigation Charts, unveils the complexity of the topography. This region serves as a testament to the fact that a staggering 90% of the world's navigation marks are concentrated in the waters of Finland and Sweden combined. The race, therefore, not only tested the mettle of the sailors but also showcased the navigational intricacies of this unique and challenging maritime environment.

Hats off to the intrepid captains of CollegeFund Speedwagon and brewman, who not only kept their vessels afloat but also conquered the challenges throughout the entire race.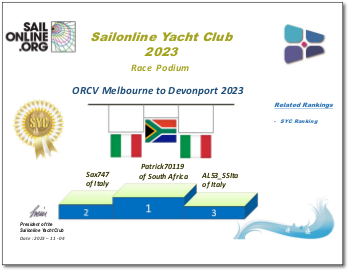 click on results image to see larger
CONGRATULATIONS Patrick70119 !!!
CONGRATULAZIONI Sax747 !! CONGRATULAZIONI AL53_SSIta !

Race Leaderboard
Commentary
A month has passed since Sailonline had the pleasure of partnering the Ocean Racing Club of Victoria, by way of hosting a virtual Melbourne to Devonport "Rudder Cup" Race 2023 in parallel with the in-real-life event. The Rudder Cup is Australia's oldest ocean race and the 5th oldest organised ocean yacht race in the world, pre-dating The Fastnet by nearly 20 years and the Sydney Hobart by nearly 40 years, and 2023 was the 10th year SOLers raced the race online.

This year, Beneteau's redoubtable First 40 was the online boat of choice. Redoubtable indeed, as of the 97 First 40's that presented on the line off Melbourne, 78 completed the c 200nm crossing to Devonport within the time limit with the fastest racers getting across in less than 30 hours. Excellent going and on this occasion the most excellent go-er was a South African. Bakgat, Patrick70119!

Races
Next Race: 00d 00h 00m
---
Current Races:
St Nicholas Island Dash PYOC Sprint 2023
Gear up for the thrilling grand finale of our yearly Sprint Championship for 2023! Our SOLers will navigate nearly 90 nautical miles in their agile Club Swan 50 yachts along California's coastline, culminating at the iconic San Nicolas Island. As the sea beckons, anticipation is sky-high for this exhilarating race, showcasing just how closely contested this championship has been. Who will emerge as the 2023 Sprint Champion? The answer awaits on the Californian coast!
Race #1727
INFO by brainaid.de
Club Swan 50 PARTICULARS
WX Updates:
0430 / 1030 / 1630 / 2230
Ranking:
SPRQ4 - SPRCH - SUPERSOL - SYC
Race starts: Dec 09th 15:00 Registration Open!

GO TO RACE
SOL's Bermuda Triangle TIMED Race 2023
Inspired by the America's Cup racing in Bermuda, this is a fun triangular course of 90nm, which we originally raced with psail and bonkhoot's collaborative polar for the AC72 foiling catamaran. Having tried the course in the more pedestrian Open 60 in 2021, this year we return to the AC72, in fact to the MODIFIED AC72v2, modified to remove the inconsistencies that obtained from the original interpolation of the limited data issued by the AC 2003 Principal Race Officer in connection with penalties determination. This is a TIMED race, which means you get multiple chances to try out the ramifications of the revisions. Be careful though, the polar remains a handling challenge with major stall-out potential!
RE-REGISTER HERE to race again after finishing a run
Race #1704
INFO by brainaid.de
AC72v2 PARTICULARS
WX Updates:
0430 / 1030 / 1630 / 2230
RANKING:
TRQ4 - TRCH - SUPSOL – SYC
RACE CLOSE: Friday,
15 December at 2300 UTC
Race starts: Dec 02nd 12:00 Registration Open!

GO TO RACE
Christmas to Christmas Island 2023
Two waypoints, start and finish, and between them 5827 NM of two oceans. Not much time if we want to sit at the Christmas Eve table. You will need to maintain an average speed of over 10 knots, so prepare your Volvo70s well and choose the best of the many possible routes. Hands up everyone who knew there were TWO Christmas Islands?! OK, maybe you have sailed this Sailonline course before... but it's time to get ready for the 2023 challenge of racing between Christmas Island in the Pacific to Christmas Island in the Indian Ocean! It also marks the conclusion of our prestigious Ocean Race Championship 2023. Please have fun! Fair winds!
PRIZE: SMPF
Race #1745
INFO by brainaid.de
Volvo70 PARTICULARS
WX Updates:
0430 / 1030 / 1630 / 2230
Ranking: OCQ4 - OCCH - SUPSOL - SYC
Race starts: Dec 01st 23:00 Registration Open!

GO TO RACE
SYC Ranking
Series
Mobile Client
SYC members have the benefit of access to our mobile/lightweight web client!