Online Sailracing!
Sailonline.org is owned and operated by Sailonline NavSim AB, a not for profit, community-owned company.
Sailonline's mission is to offer a superior internet-based sailing and navigation simulation to the global sailing community, whilst ensuring a future of growth and continuous enhancement to benefit its users through financial viability and long term vision.
All Sailonline boats and their properties are purely virtual and do not necessarily reflect real world data.
Sailonline is free for everyone to play and is supported by SYC Memberships.
Create your account
News from the blog
Welcome!
Now login with our guest account to view currently running races: Username: guest - Password: guest
PLEASE ONLY REGISTER YOUR OWN USERNAME AND PASSWORD IF YOU INTEND TO RACE.
All times on Sailonline are in UTC

GDPR - General Data Protection Regulations - Sailonline wishes to reassure all SOLers that it is aware of the regulation changes in relation to the protection of personal data. Sailonline cares about your privacy and will continue to let you control the personal information you provide. More info here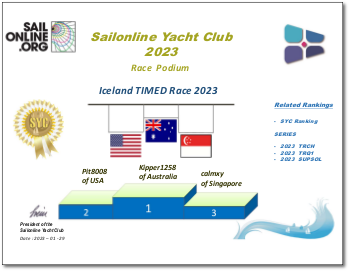 click on results image to see larger
GOOD ONYA Kipper1258!!!
CONGRATULATIONS Pit8008!! CONGRATULATIONS calmxy!
Race Leaderboard
Commentary
The first Timed Race of 2023 was held in Iceland, and it was definitely an interesting one. The desired wind conditions were as follows: a consistent 30 knots of wind coming from the SW and shifting nearly to the S while rounding Alviðruhamrar (or alternatively, NW and shifting nearly to the W). This would enable our Orange Cats to maintain its maximum speed of 29.5 knots on the rhumb lines and theoretically set a time of just over 5 hours. However, actually finding the best winds have proven tricky - while winds are abundant off the south coast of Iceland, they aren't necessarily blowing in the right direction or strength.
The 16 day window saw a total of 481 successfully completed runs from 125 skippers, which can be viewed here. Starting at around 10pm UTC on 20 January provided the best winds for a quick run, with over 30 boats seizing this opportunity. It was hotly contested, with all of the top 10 setting times barely over a minute apart. Of those, Kipper1258 proved to be the best, saving precious seconds by making small tweaks as "simply banging the corners is no longer good enough", with Pit8008 and calmxy just 8 and 11 seconds adrift, respectively. Thereafter, the Wx occasionally showed promise of more favourable winds in the remaining 9 days, but none of those opportunities materialized, keeping the podium unchanged. Well done!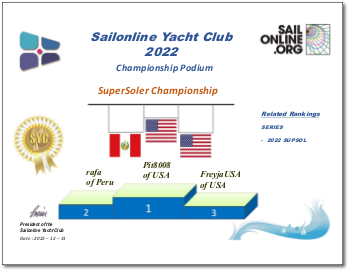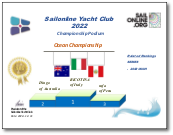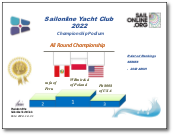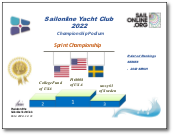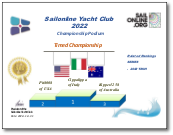 It has been another great online racing year at Sailonline, and here without further ado is your Sailonline Race Committee's review of the year.

read the Annual Report here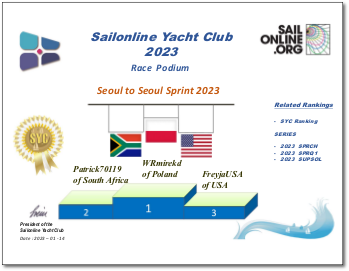 click on results image to see larger
GRATULACJE WRmirekd !!!
CONGRATULATIONS Patrick70119 !! CONGRATULATIONS FreyjaUSA !

Race Leaderboard
Reports

Commentary
The new year came upon us all quite quickly and so did the very first sprint for the year of 2023! Our sailors started the 2023 sprint championship with a brisk race in the bay of the well known city, Seoul, South Korea.

The weather was rather light with the direction not changing too much over the course of the race, however, this didn't stop our sailors from having an extremely exciting race! At first glance of the course and the weather, it seemed like it would be quite a straightforward race around the course, but this was far from the reality! Many of our sailors tried all types of strategies hoping that they could take the top spot, WRmirekd outlines all of this extremely well in his report which is attached above!

The competition was extremely fierce as it always is when it comes to these sprint races, and therefore the leaderboard was changing throughout the entire race, making for some exciting racing! When our sailors went around the final rounding WRmirekd, Patrick70119 and FreyjaUSA were in the top spots and were able to keep their positions all the way to the finish line!

Congratulations to WRmirekd on a phenomenal victory and to Patrick70119 and FreyjaUSA for their well deserved podium positions!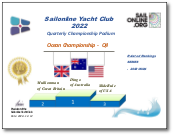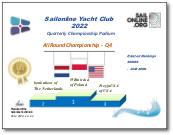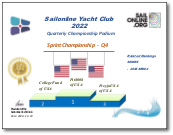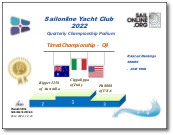 With so much to report upon for the fourth quarter of 2022 and then preparing my report on the annual series, I shall not spend any time musing on the progress of the World but just wish you all a very Happy New Year during which SRC will attempt to provide you with a range of virtual yacht racing that hopefully will satisfy most of you most of the time.

Without further ado then, I summarise below the results for the Series racing in the 4th Quarter 2022.

read the Quarterly Report here
Races
Next Race: 00d 00h 00m
---
Current Races:
Melbourne to Hong Kong
After celebrating Christmas and New Year it is time for the second run in this year's Ocean Race Championship. After leaving Melbourne on this (about) 5.500 NM course, we will leave the Solomon Islands, Papua New Guinea and the Philippines, all to port. And remember, once again we'll have to choose the best way to cross the Doldrums
PRIZE: SMPF
Race #1658
INFOfrom brainaid.de
OD65v3 Particulars
WX Updates:
0430 / 1030 / 1630 / 2230
Ranking:
OCQ1-OCCH-SUPSOL-SYC
Race starts: Feb 04th 05:00 Registration Open!

GO TO RACE
Buenos Aires to Rio 2023



This year's second ARCH series race will run from Buenos Aires, Argentina to Rio de Janeiro, Brazil on a route designed by SOLer Vida_Maldita (under his former alias of zero) in 2013. This is a replica of a classic triennial race of 1200nm, first run in 1947. More information about this IRL race can be found here.
So, Bemvindo/Bienvenidos in this coastal classic and prepare your 90ft Monohulls well.
Race #1662
INFO by brainaid.de
90ft Monohull PARTICULARS
WX Updates:
0430 / 1030 / 1630 / 2230
Ranking:
ARQ1 - ARCH - SUPSOL - SYC
Race starts: Feb 01st 18:00 Registration Open!

GO TO RACE
Up Helly Aa 2023
A-OI!!! The cry should soon be ringing out in the streets of Lerwick as the Guizer Jarl and his crew, along with the other teams in the Up Helly Aa parade complete their preparations for the biggest fire festival in Europe. As is Sailonline's tradition, we shall be racing the 383nm from Aberdeen to Lerwick to (virtually) take part in the Up Helly Aa festivities there which take place for the first time since 2020 on Tuesday, 31 January. SAILING NOTE: Gruney may be approached from any direction but must be passed for rounding purposes as indicated on the chart.
Race #1660
INFO by brainaid.de
Elan 410 PARTICULARS
WX Updates:
0430 / 1030 / 1630 / 2230
Ranking: SYC
RACE CLOSE: Friday,
3 February at 2300 UTC
Race starts: Jan 28th 11:00 Registration Open!

GO TO RACE
SYC Ranking
Series
Mobile Client
SYC members have the benefit of access to our mobile/lightweight web client!