26 June 2020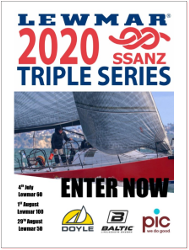 It is 2020, the world continues to confront the #COVID19 pandemic, but one country appears to be getting it all so much "right-er" than many others and this is wonderful New Zealand, where sailing is resuming! Sailonline is therefore particularly delighted to be back on the waters of the Hauraki Gulf, in New Zealand's North Island. Sailonline has raced here for many years and racing around the islands feels familiar to many of our virtual competitors. For the 9th year in a row, Sailonline is looking forward to racing in the Y88 Division, as the virtual partner of the Short-handed Sailing Association of New Zealand (SSANZ) for the SSANZ Lewmar Triple Series 2020 – the biggest two-handed sailing series in New Zealand.
In 2014 Sailonline began an association with the Young 88 Owners Association and once more will be racing all three events this year with our Young88 Polar while acknowledging the remarkable contribution to yachting and yacht design from the legendary Jim Young who died in the middle of June.
The three races will be raced on Sailonline on the following dates which take account of the time difference between New Zealand and UTC:
Race 1 Lewmar 60 Baltic -- 3 July
Race 2 Lewmar 100 Baltic -- 31 July
Race 3 Lewmar 50 Baltic -- 28 August
Sailonline's first race will open for registration and pre-race practice on 1 July.


Races
Next Race: 00d 00h 00m
---
Current Races:
Iceberg Dodge TIMED Race 2020
Progressive climate change since this 34nm race designed by NZL_Scotsman was first run in 2014 may have eased our access to these fjords but watch out for growlers.  This is a TIMEDrace, and you can expect storms and calms, so choose your start time with care. Sailing in little J-80's, 5:01:11 hours is the previous best time to beat. God hastighed!
RE-REGISTER HEREto race again after finishing a run
Race #1378
INFOby brainaid.de 
J-80 Particulars
  WX Updates:
0430 / 1030 / 1630 / 2230. 
RANKING:
TRCH-TRQ3-SUPSOL-SYC
ALT. CLIENT: Classic
RACE CLOSE: Sunday,
August 23 at 23:00:00 UTC.
Race starts: Aug 10th 12:00 Registration will open soon
HTML5 Client (beta) GO TO RACE
Round White Island 2020
This classic New Zealand race is run each year and takes the yachts from Auckland and, after rounding Channel Island, down south to the Bay of Plenty, around the active volcano on White Island, and back to Auckland. Racing RC 44s, who will be first to complete SOL's 292nm course?
Race #1374
INFO by brainaid.de
RC 44 Particulars
WX Updates:
0430 / 1030 / 1630 / 2230
RANKING:
SYCQ3 - SYCCH - SUPSOL – SYC
ALT. CLIENT: Classic
Race starts: Aug 07th 20:00 Registration Open!
HTML5 Client (beta) GO TO RACE
Maryland to Alaska 2020
Inspired by Matt Rutherford's single-handed Red Dot Expedition around the Americas in 2012, SOLer Renegade proposed a half around from Maryland over the North into the Pacific and back through the Panama Canal, in 5 legs, 5 years later. Leg 2 across the North West Passage proved to be particularly challenging and so to create a proper Ocean Race, SRC has combined Leg 2 with Leg 1 to give you a race of at least 4000nm from Maryland to Alaska in our magnificent 90ft Monohull.
PRIZE: SMPF
Race #1366
INFOby brainaid.de
90ft Monohull Particulars
WX Updates:
0430 / 1030 / 1630 / 2230
Ranking:
OCCH - OCQ3 - SUPSOL - SYC
ALT. CLIENT: Classic
Race starts: Aug 04th 20:00 Registration Open!
HTML5 Client (beta) GO TO RACE
Brisbane to Keppel Tropical Yacht Race 2020

When the winter weather turns cool in southern Australia sailors head up to the warmer tropics. Every year in August sailors from all over the world make their way to The Great Barrier Reef for the big winter regattas at Hamilton Island, Airlie Beach and Magnetic Island. What better way to get there than to race to the reef. This year Sailonline is joining with the racers from
RQYS to race the 343 nautical miles from Brisbane to Keppel Island in our TP52s. It might be winter downunder but all you will need is shorts and t-shirts.
Race #1367
INFO
by brainaid.de
TP-52
Particulars
WX Updates:
0430 / 1030 / 1630 / 2230
Ranking: SYC
ALT. CLIENT:
Classic
RACE CLOSE:
Friday,
August 7 at 2300 UTC.
Race starts:
Jul 31st 01:00
Registration Closed
HTML5 Client (beta)
GO TO RACE
SYC Ranking
Series
Mobile Client
SYC members have the benefit of access to our mobile/lightweight web client!