Online Sailracing!
Sailonline.org is owned and operated by Sailonline NavSim AB, a not for profit, community-owned company.
Sailonline's mission is to offer a superior internet-based sailing and navigation simulation to the global sailing community, whilst ensuring a future of growth and continuous enhancement to benefit its users through financial viability and long term vision.
All Sailonline boats and their properties are purely virtual and do not necessarily reflect real world data.
Sailonline is free for everyone to play and is supported by SYC Memberships.
Create your account
News from the blog
Welcome!
Now login with our guest account to view currently running races: Username: guest - Password: guest
PLEASE ONLY REGISTER YOUR OWN USERNAME AND PASSWORD IF YOU INTEND TO RACE.
All times on Sailonline are in UTC

GDPR - General Data Protection Regulations
- Sailonline wishes to reassure all SOLers that it is aware of the regulation changes in relation to the protection of personal data. Sailonline cares about your privacy and will continue to let you control the personal information you provide. More info
here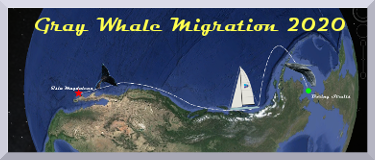 click on image to see larger
Another year and while the populations of whales on our globe continue to be under threat from noise pollution, plastic pollution, illegal fishing and natural predation, there remains a good group of gray whales in the Eastern Pacific. It is autumn in the northern hemisphere and time for this group to begin their marathon migration from their summer feeding grounds around the Ileutian Islands and in the Bering Sea. Sailonline will, once again, parallel the migratory route of these wondering creatures, but instead of cruising at an average pace of 5kts, we shall be somewhat speedier in our 90ft Monohull.
First created for Sailonline in 2010 this race celebrates the remarkable life cycle and migration route of the Gray Whale. In 2010, 2011 and 2017 we raced from Mexico up to the Bering Sea in late Spring (the mother and calf route), in 2013, 2014, 2015, 2016, 2018, 2019 and again this year we follow the autumn swim south to the warm and shallow breeding grounds in the lagoons off Baja California.
Sailonline's race is now open for practice and will start on Monday, 2 November at 1900utc.
Useful Info.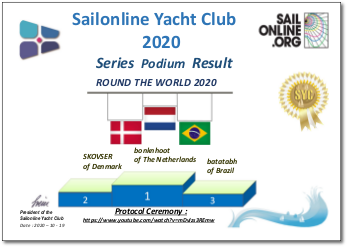 click on results image to see larger
GEFELICITEERD bonknhoot!!!
GRATTIS SKOVSER!! PARABÉNS batatabh!
Series Leaderboard
Reports


Commentary

As, towards the end of March, a first wave of #COVID19 began to wash across Europe, Sailonline's ocean fleet departed from Cascais for Cape Town on the first of four legs of a classic round-the-world race. And, as the fleet progressed south (and west!), its numbers steadily grew, and continued to grow leg after subsequent leg. Thus, as the last competitors to make the line in time back in Cascais finish, 452 different SOLers (will) have participated in the event, with most of them having finished at least one leg.
As always, our podium was a multinational affair, and an impression of exactly (well summarily) what went on at the front end of the fleet may be gleaned from the reports from two of our podium three. It was a close-run thing, and in fact, if only Leelu22 had invested in a virtual SYC burgee, it would have been he who would have won the virtual gold medal as well as a very fine, supersize IRL medal shipped to him from Sailonline's distribution centre. Nevertheless, very well sailed, Leelu22. Čestitamo!

click on results image to see larger
GEFELICITEERD bonknhoot !!!
PARABÉNS nacrr!! GRATULACJE WRmirekd!
Race Leaderboard
Reports

Commentary
This time of year Sailonline heads to the South China Sea for a classic run from Hong Kong to the port of Sanya in Hainan province, usually racing against a real fleet. Unfortunately, the #COVID19 pandemic meant a change of plans so we were racing by ourselves this time and, as it happens, the weather was sufficiently ferocious that any sensible real fleet would have remained in port. With Typhoon Molave developing in the waters off the Philippines and moving across the China Sea and our screens showing extraordinary conditions, the choice for the fleet was to race fast to the finish or dally around the storm and surf its winds for a while. Needless to say our top SOLers chose the first option and so it was that our podium three arrived in Sanya in pretty record breaking time.
In a fleet of 130 boats representing 30 nations Sailonline's winner arrived in Sanya just 22h 34m 53s after starting with a gaggle of competitors in hot pursuit, this was an standout result! Bravo!


click on results image to see larger
GRATULACJE WRmirekd!!!
PARABÉNS nacrr!! FELICIDADES rafa!
Race Leaderboard
Reports
Commentary
It scarcely seems a year since Sailonline last watched the PIC Coastal Classic fleet depart from Auckland for this wonderful mixed-fleet race to Russell, up the east coast of New Zealand's North Island. The Start Video by LiveSailDie shows just how light the start conditions were although our virtual 60ft trimarans were marginally luckier without the real currents to contend with.
As always a superb report of the real race is available from Sailworld here and, of course, the full results are posted on the race's homepage here.
Winds on the nose once past North Head meant that the fleet had its work cut out to find the best run to Cape Brett – the virtual fleet has an open run, which means that going well outside The Hen and Chickens is certainly an option, although that was not popular. A leading group soon formed but, sadly, some distance behind the front runners in the real race and, if you read the reports posted above, you'll see how it was for those keenly competing for top honours in these difficult windward conditions. Our winner, WRmirekd, arrived in a record time all right – sadly the slowest recorded time ever for a Sailonline winner of the Coastal Classic – 23h 23m 59s! Even back in 2009 and 2010 when we raced Young 88s the winds let us arrive in half that time – what a change from our best winning time in 2019!
With a fleet of 147 racing, flying the flags of 33 nations, there was good competition for the podium with 10 boats arriving within 10m of our winner. Our podium must of course be congratulated for taking the stop spots – our winner was 29s ahead of the second place taker, who was more than a minute ahead of the third. Very well done guys – a tougher than usual Coastal Classic so an excellent result!

Races
Next Race: 00d 00h 00m
---
Current Races:
Gray Whale Autumn Migration 2020
As temperatures begin to drop in the northern hemisphere, Eastern Pacific Gray Whales who have spent the summer months in the nutrient rich feeding grounds of the Bering Sea, now begin to make their way south to their winter home of the warm conditions off the coast of Mexico and we will be joining them for their 3,886nm migration in our 90ft monohull.
PRIZE: SMPF
Race #1409
INFO by brainaid.de
90ft Monohull PARTICULARS
WX Updates:
0430 / 1030 / 1630 / 2230
Ranking:
OCCH-OCQ4-SUPSOL-SYC
ALT. CLIENT:Classic
Race starts: Nov 02nd 19:00 Registration Open!
HTML5 Client (beta) GO TO RACE
Mistli Birthday BBQ Race 2020
Welcome to one of Sailonline's great traditions - the celebration of SOLer Mistli's birthday with a slalom through the Stockholm Archipelago. As always, we are providing you with a fleet of speedy Seacarts to slice through these (at least) 61.5nm of SLI-infested waters, so that you may be sure that there will still be some beer left round the campfire when you dock by the jetty at Trosa!
Race #1396
INFO by brainaid.de
Seacart 30 Particulars
WX Updates:
0430 / 1030 / 1630 / 2230
Ranking: SYC
ALT. CLIENT:Classic
Race starts: Nov 01st 14:00 Registration Open!
HTML5 Client (beta) GO TO RACE
Two Oceans Doublecross 2020
This race was first designed for Sailonline in 2010 by SOLer Jawz, and now, ten years on, we again invite you to sail our Fox 9.50s the 185nm around Cape Point and twice over the imaginary line demarcating the meeting of the Atlantic and Indian Oceans. Count the number of wrecks of previous vessels both old and new that underestimated the fury of the Cape of Storms! Celebrate your survival at the Tavern of the Seas.
Race #1403
INFO by brainaid.de
Fox 9.50 PARTICULARS
WX Updates:
0430 / 1030 / 1630 / 2230
Ranking: SYC
ALT. CLIENT:Classic
Race starts: Oct 29th 16:00 Registration Open!
HTML5 Client (beta) GO TO RACE
The Odyssey 2020 - Leg 2
Welcome back to the second leg of Sailonline's Virtual Odyssey which takes us from Cape Maleas at the south eastern tip of the Peloponnese across the Mediterranean to the land of the drug-dependent Lotus Eaters, probably Djerba on the Tunisian coast, where Odysseus nearly tarries too long, but gets away in time, only to end up on the southern coast of Sicily near present-day Sciacca, where a one-eyed cyclops named Polyphemus holds terrible sway and has to be dealt with after he has devoured a number of the crew. 850nm of epic adventure; enjoy!
Race #1389
INFOby brainaid.de
Trireme PARTICULARS
WX Updates:
0430 / 1030 / 1630 / 2230
Ranking: SYC - ODY
ALT. CLIENT: Classic
Race starts: Oct 27th 16:00 Registration Open!
HTML5 Client (beta) GO TO RACE
SYC Ranking
Series
Mobile Client
SYC members have the benefit of access to our mobile/lightweight web client!