Online Sailracing!
Sailonline.org is owned and operated by Sailonline NavSim AB, a not for profit, community-owned company.
Sailonline's mission is to offer a superior internet-based sailing and navigation simulation to the global sailing community, whilst ensuring a future of growth and continuous enhancement to benefit its users through financial viability and long term vision.
All Sailonline boats and their properties are purely virtual and do not necessarily reflect real world data.
Sailonline is free for everyone to play and is supported by SYC Memberships.
Create your account
News from the blog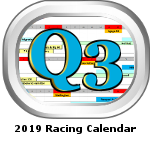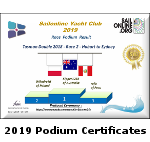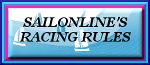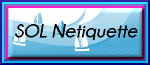 GDPR - General Data Protection Regulations
- Sailonline wishes to reassure all SOLers that it is aware of the regulation changes in relation to the protection of personal data. Sailonline cares about your privacy and will continue to let you control the personal information you provide.
Welcome!
Now login with our guest account to view currently running races: Username: guest - Password: guest
PLEASE ONLY REGISTER YOUR OWN USERNAME AND PASSWORD IF YOU INTEND TO RACE.
All times on Sailonline are in UTC

This Labor Day weekend (31 August - 2 September) the Stamford Yacht Club, Connecticut, USA, will be welcoming Sailonline back for the 85th running of the 238-mile Vineyard Race. This will be the 10th Virtual Vineyard Race - a decennary year! The course can be challenging, with conditions in Long Island Sound strongly influenced by weather systems rolling up the US East Coast and by the strong tidal currents up and down the sound.
For the 5th year in a row, we anticipate to be able to race online with the WRF wind model which gives a wx system grid as dense as 0.05 degrees! Sailonline will sail the full Vineyard course irrespective of real-world weather conditions which, on occasion, can require the real fleet to race within the Sound. Sailonline will, as always, race the polar of the Santa Cruz 52, a design almost as famous and venerable as the race itself.
Sailonline's race has already opened for pre-race practice and will start with the real Vineyard fleet on the 30th August at 1700utc.
Current Entry List
Race Tracker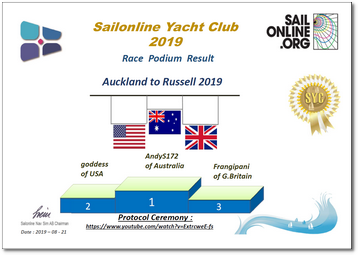 click on results image to see larger
GOOD ONYA AndyS172!!!
CONGRATULATIONS goddess!! CONGRATULATIONS Frangipani!
Race Leaderboard
Commentary
Saturday, 17. August 2019, around midnight UTC, the wind gods favoured those awake.
But not all that started within that window of 2 hours, made it to the podium
TOP 10 did it within 4 minutes!!!!

Magnificent podium and all in TOP 10.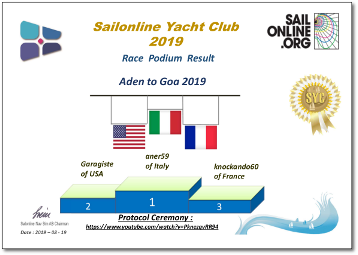 click on results image to see larger
CONGRATULAZIONI aner59!!!
CONGRATULATIONS Garagiste!! FELICITATIONS knockando60
Race Leaderboard
Commentary
Another new-to-Sailonline ocean race, this time replicating (in reverse) one of the historical sailing routes for ships running the Spice Trade routes from Goa, India, to Aden, Yemen. The first ocean-going vessels that developed this trade were thought to be outriggers and catamarans constructed by the peoples from "Austronesia" (the islands of south east Asia), bringing spices not only to the Indian sub-continent but also on to the Middle East where the products were then transferred to camels, aka ships of the desert. Do read the Wiki article – it is utterly fascinating and perhaps gives Sailonline a chance to develop more races retracing the routes of the traditional trade routes.
Our Sunfast 3600s were a fun choice for such a race – first used by Sailonline to match with SOLer Roddo in the Sundance Marine Melbourne Osaka Cup 2018 Double Handed Yacht Race where they proved themselves to be a stout ocean-going option. With a fleet flying the flags of 37 nations, this was one of the most globally-participated of our races for some time, and at a time when climate change is altering traditional winds and currents, we all found ourselves surprised by a fairly straightforward race once into the Arabian Sea. Traditionally, the winds have been better W-E but in 2019 after some initial swirl after the Aden departure and until we were clear of of the influence of the Horn of Africa, it was a pretty clean run to the finish for everyone!
Our podium three are to be congratulated for their success – with seconds between 1st and 2nd and a few more between 2nd and 3rd, they found themselves minutes ahead of their nearest competition. Nicely done, guys!

Races
Next Race: 00d 00h 00m
---
Current Races:
The Vineyard Race 2019
For the 10th year in a row, Long Island's Stamford Yacht Club has invited all SOLers to participate virtually in their iconic annual 250nm overnighter from their club line out the sound to Buzzard's Bay Light near Martha's Vineyard Island and back again, leaving Block Island to starboard. As always, Sailonline is making the ideally-suited-to-these-waters, Santa Cruz 52 available to competitors, and an SC52 or two should be out in the real life fleet as well, to test your skills against. Be sure to be there!
Race #1272
INFO by brainaid.de
Santa Cruz 52 Particulars
WX Updates:
0430 / 1030 / 1630 / 2230
Ranking: SYC
ALT. CLIENT:Classic

Race starts: Aug 30th 17:00 Registration Open!
GO TO RACE
Sail Around Turkey 2019
Welcome to one of Sailonline's iconic races, where our fleet races the length of the Turkish coastline. This is a 1,372nm race from Hopa (the easternmost point of the Turkish Black Sea coast) to Iskenderun (the easternmost point of Turkey's Mediterranean coast).
Race #1279
INFOfrom brainaid.de
Sailonline_Falkun Particulars
WX Updates:
0430 / 1030 / 1630 / 2230
Ranking: SYC
ALT. CLIENT:Classic
Race starts: Aug 20th 14:00 Registration Open!
GO TO RACE
Aden to Goa 2019
Europeans are mainly familiar with the history of how spices arrived in that continent from far away places, but the trade in spices from Goa to Aden predates the modern era as is detailed here. Sailonline is reversing this route and making it an eastbound yacht race of about 1700nm across the Arabian Sea for our 21st century Sunfast yachts! Fair winds and may the aroma of spices bring you safely to your destination!
PRIZE: SMPF
Race #1255
INFOfrom brainaid.de
Sunfast 3600 Particulars
WX Updates:
0430 / 1030 / 1630 / 2230
RANKING:
OCQ3-OCCH-SUPSOL-SYC
ALT. CLIENT: Classic
RACE CLOSE: 26 August at 2300utc
Race starts: Aug 12th 16:00 Registration Closed
GO TO RACE
SYC Ranking
Series
Mobile Client
SYC members have the benefit of access to our mobile/lightweight web client!