Online Sailracing!
Sailonline.org is owned and operated by Sailonline NavSim AB, a not for profit, community-owned company.
Sailonline's mission is to offer a superior internet-based sailing and navigation simulation to the global sailing community, whilst ensuring a future of growth and continuous enhancement to benefit its users through financial viability and long term vision.
All Sailonline boats and their properties are purely virtual and do not necessarily reflect real world data.
Sailonline is free for everyone to play and is supported by SYC Memberships.
Create your account
News from the blog
Welcome!
Now login with our guest account to view currently running races: Username: guest - Password: guest
PLEASE ONLY REGISTER YOUR OWN USERNAME AND PASSWORD IF YOU INTEND TO RACE.
All times on Sailonline are in UTC
GDPR - General Data Protection Regulations
- Sailonline wishes to reassure all SOLers that it is aware of the regulation changes in relation to the protection of personal data. Sailonline cares about your privacy and will continue to let you control the personal information you provide. More info
here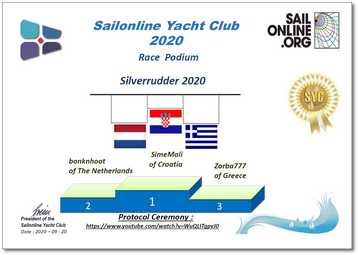 click on results image to see larger
ČESTITAMO SimeMali!!! CONGRATULATIONS bonknhoot!!
SYNCHARITIRIA Zorba777!
Reports
Commentary
Despite the Covid 19 restrictions, the Silverrudder team managed to establish an event that more than satisfied all 429 sailors, who again had a wonderful experience in this 2020 edition of Silverrudder. But whether you were actually out on the water or sitting at home on the couch and sailing virtually, the excitement was a bit sparse as there was almost no wind and it resulted in many of the "real" sailors not being able to reach at all. to complete within the deadline Sunday at 12:00 (local time) and only 29 out of 429 managed it. It was different (but not much) to sail virtually with Sailonline. The same very weak wind, but we first had a deadline Wednesday at 23:00, and that gave us 5 days, 14 hours, 30 minutes. 104 participated but only 56 completed. # 1 on the podium, SimeMali, completed in 1 day, 16 hours, 21 minutes, 40 seconds with # 2, bonknhoot just 11 seconds behind, and # 3, Zorba777, another 3 minutes, 39 seconds behind, all after an impressive effort. Very well done.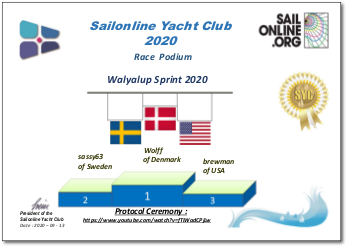 click on results image to see larger
TILLYKKE Wolff!!!
GRATTIS sassy63!! CONGRATULATIONS brewman!
Race Leaderboard
Reports

Commentary
Thing is racing short sprints through gfs forecasts with data spaced at 0.5 degree intervals, wind, irrespective of whether light, moderate or fresh are going to be steady, as only four points top left, top right, bottom left and bottom right, are going to determine what you will encounter, bilinearly interpolated. Fortunately, a WX update halfway gave competitors a little more to think about, weatherwise. Nevertheless, to win this sprint, the main challenge was a slalom zig-zag through a bunch of SLIs collectively called Dyer – 'do or die' or just 'dire'; take your pick. The good news is that hi-res wrfems with lots of asymmetry and surprises will be back for our next sprint this coming Saturday. Don't miss it!
Amazingly, the returning Wolff after quite an extended absence from Sol, managed the slalom challenge best of all, pipping seasoned slalomer sassy63 by a solid 2 server-jump twenty seconds with brewman, surprising even himself (see his report), following in close behind. Well done all three, deftly leaving quite a bit of mayhem behind!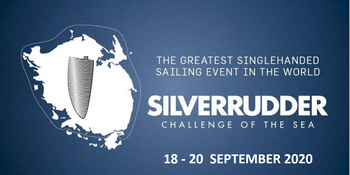 Sailonline is delighted to announce its fifth official buddy-up with Svendborg Amatør Sejlklub in Denmark for the challenging inshore race around the island of Funen, "Silverrudder - Challenge of the Sea".
The most likely sailing direction of the race will be announced at Skipper's Briefing starting at 15:00 UTC on 17th September. This direction will be published as soon as it's known in an In-Race message, for the race on 18 September.
Since inception in 2012 when a handful of boats participated, this single-handed race has become the world's largest single-handed event.
This year the list of entrants shows 429 boats registered for start. Sailonline will be racing a Seascape (First) 27, the boat type that is most widely represented (17 in 2020), so we will have direct competition.
Sailonline's race will be opening Sunday 13. September at 08:30 UTC for pre-race practice and will start with the real Silverrudder fleet's Seascape (First) 27's on Friday 18 September 2019 at 08:30 UTC.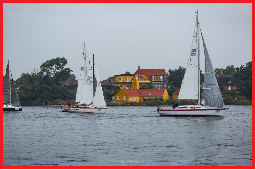 Videos and pictures from Silverrudder 2018

Surprise - Prizez for the podium
#1 - Polo Shirt #2 - Burgee #3 - Bag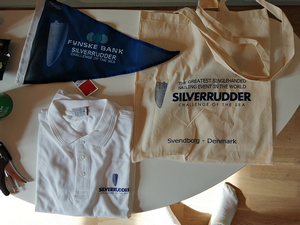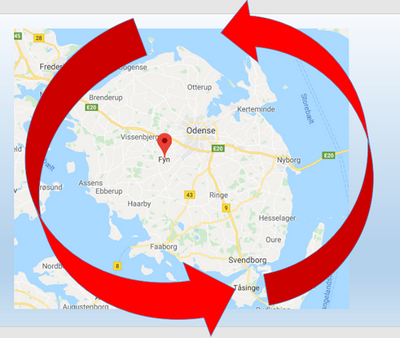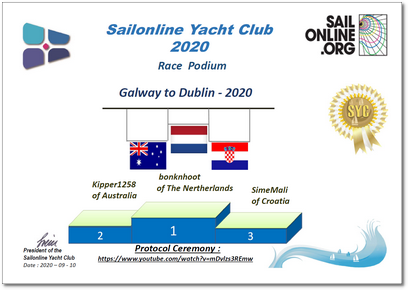 click on results image to see larger
GEFELICITEERD bonknhoot!!!
GOOD ONYA Kipper1258!! ČESTITAMO SimeMali!
Race Leaderboard
Reports

Commentary

Racing around the southern coast of Ireland at the start of the winter gale season was always going to be interesting, and thus it was a typical September sou'westerly that greeted competitors as they departed hard on the wind from Galway to Dublin. And as the fleet raced round the Irish south coast, the wind clocked west behind them and on into the north west, giving competitors a further day of windward work up the Irish Sea. Exhausting even only thinking about it!
On-line it was hard work too, as reflected on in the excellent race reports by P3 placer SimeMali and winner bonknhoot, who hails from these shores, and has taken the opportunity in his report to reproduce his spontaneous 'in-chat' coastal travelogue. Well worth a read!
And the racing was close all the way, with less than a minute separating bonknhoot and P2 placer Kipper1258, with SimeMali not much further behind as they crossed the line, smack bag in the middle of the shipping channel into Dublin port, as bonk remarked in his report! Great racing.


Races
Next Race: 00d 00h 00m
---
Current Races:
San Francisco Bay 2020
Many a Sailonline race has started or finished at San Francisco's Golden Gate, but never have we raced inside The Bridge on The Bay. This 27nm sprint corrects that oversight with a fine sight-seeing tour past Alcatraz, Yerba Buena, Brooks and East Marin Island. Our rarely raced Fox 9.50 is your boat of choice. She's a nippy little thing. Enjoy!
Race #1369
INFO by brainaid.de
Fox 9.50 Particulars
NAM_AWIP WX Updates:
0245 / 0845 / 1445 / 2045
Ranking:
SPRCH - SUPSOL - SPRQ3 - SYC
ALT. CLIENT:Classic
Race starts: Sep 26th 19:00 Registration Open!
HTML5 Client (beta) GO TO RACE
A3 2020 Leg 8 - Darwin to Perth
In 2012 Sailonline lost one of its more remarkable racers, Aaron Gage, the creator of the Flash client and all-round awesome human being. In his memory, Tyger created a superb series of races around the island of Australia - the A3 (Agage's Around Australia) Series. This race is Leg 8 of the series - a race of 1860nm in Orange 125ft Catamarans from the laid back north to the booming mining capital and yachting centre of Perth in the south of the state of Western Australia.
Race #1386
INFO from brainaid.de
Orange 125ft Catamaran Particulars
WX Updates:
0430 / 1030 / 1630 / 2230
Ranking: A3 - SYC
ALT CLIENT:Classic
Race starts: Sep 22nd 21:00 Registration Open!
HTML5 Client (beta) GO TO RACE
Foveaux Strait TIMED Race 2020
Welcome to southern New Zealand, and welcome to this TIMED race through the South Island's Foveaux Strait. According to a Maori legend, the strait was created by Kewa the obedient whale when traditional Maori ancestor Kiwa summoned the whale to create a waterway. It is a rough and often treacherous stretch of water. Our 98nm quadrangular course goes around some small islands in the strait. To zoom around these islands in style, we will pull our Seacart 30s out of the shed and let them fly. Enjoy!
RE-REGISTER HERE to race again after finishing a run.
Race #1375
INFO by brainaid.de
Seacart30 Particulars
WX Updates:
0430 / 1030 / 1630 / 2230
RANKING:
TRCH-SUPSOL-TRQ3-SYC
ALT. CLIENT: Classic
RACE CLOSE: Monday,
27 September at 2300utc
Race starts: Sep 14th 12:00 Registration Open!
HTML5 Client (beta) GO TO RACE
Carib Rum Run 2020



Welcome to the Caribbean and Sailonline's 2020 Pirate Name PRIZE race, running with Bart's Bash and ahead of International Talk Like a Pirate Day on 19 September. This is a 1759nm slalom through the rum islands of the Caribbean, for the first time in a Clipper, collecting barrels from the region's distilleries and carrying them to the rum-parched beaches of Cancun, Mexico. If ye scurvy swabs are up ter it, then ye be invited to attire yerselves in a piratical disguise by becoming an SYC Member and requesting to change your boat name for this race only!
Race #1384
INFO from brainaid.de
Clipper 240 Particulars
WX Updates:
0430 / 1030 / 1630 / 2230
Ranking: SYC
ALT. CLIENT:Classic
Race starts: Sep 10th 17:00 Registration Closed
HTML5 Client (beta) GO TO RACE
Melbourne to Osaka 2020
Welcome to Melbourne for Sailonline's Melbourne to Osaka 2020 Double Handed Yacht Race - a 5000 nautical mile 2-handed yacht race and the only one running from the southern hemisphere to the northern hemisphere. This year we're racing the Riptide 50. It could be a long race!
PRIZE: SMPF
Race #1372
INFO by brainaid.de
Riptide 50 Particulars
WX Updates:
0430 / 1030 / 1630 / 2230
Ranking: OCCH - OCQ3 - SUPSOL - SYC
ALT. CLIENT:Classic
Race starts: Sep 01st 19:00 Registration Closed
HTML5 Client (beta) GO TO RACE
SYC Ranking
Series
Mobile Client
SYC members have the benefit of access to our mobile/lightweight web client!