Online Sailracing!
Sailonline.org is owned and operated by Sailonline NavSim AB, a not for profit, community-owned company.
Sailonline's mission is to offer a superior internet-based sailing and navigation simulation to the global sailing community, whilst ensuring a future of growth and continuous enhancement to benefit its users through financial viability and long term vision.
All Sailonline boats and their properties are purely virtual and do not necessarily reflect real world data.
Sailonline is free for everyone to play and is supported by SYC Memberships.
Create your account
News from the blog
Welcome!
Now login with our guest account to view currently running races: Username: guest - Password: guest
PLEASE ONLY REGISTER YOUR OWN USERNAME AND PASSWORD IF YOU INTEND TO RACE.

GDPR - General Data Protection Regulations - Sailonline wishes to reassure all SOLers that it is aware of the regulation changes in relation to the protection of personal data. Sailonline cares about your privacy and will continue to let you control the personal information you provide. More info here
Sailonline is delighted to announce it is once more partnering with the prestigious San Diego Yacht Club to run a virtual version of the 2021 Islands Race in tandem with the real event. SDYC has been racing in reality in the waters off San Diego for 130yrs and in 2016 it became the first USA West Coast yacht club to bring virtual sailing navigation to its members and the west coast sailing community.
The first Islands Race was held back in 2010 and has become a regular season-starter ever since, but this will be only the second time that Sailonline has provided a virtual version of the race for all-comers! The real fleet has to observe a military exclusion zone around the entire island of San Clemente, so our virtual course has our San Clemente waypoint offshore to reflect this. As ever we will be sailing our TP-52s around the 134nm official course and plan on bringing the real fleet on-screen so we can directly go head to head with the real fleet
Sailonline's race will open for pre-race practice on Sunday, 28 February.
Current Entry List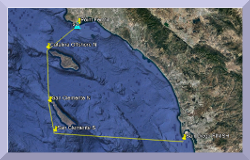 click on the COURSE image to see larger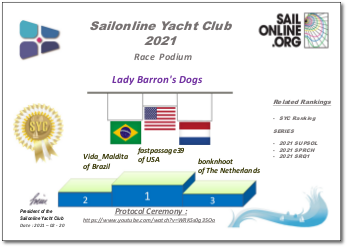 click on results image to see larger
CONGRATULATIONS fastpassage39!!!
PARABÉNS Vida_Maldita!! GEFELICITEERD bonknhoot!
Race Leaderboard
Commentary
A moderate westerly greeted the SOL sprinters for this third race of the 2021 Sprint Series and the penultimate Q1 race. Some quick tacking along the south shore of the Great Dog determined the early leaders, but not the ultimate winner, as some subtle deviating from the rhumb line both on the fetch out to Doughboy and the broad reach home proved to be worth more, resulting in a handsome victory by 7 seconds for fastpassage39 from Vida_Maldita, who it turns out is not a newbie after all, but the redoubtable Antonio (Banderas, back from a visit to The Launderette, formally known as Zoe and before that Zezo).
SadlerSailing was also in the mix of course, finishing a close 4th behind bonknhoot, and in consequence is counting a pretty unassailable 1-4-4 for Q4 with one race to go. Stay strong, Sadler!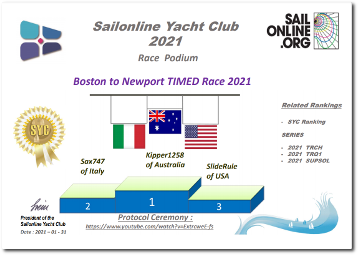 click on results image to see larger
GOOD ONYA Kipper1258!!!
CONGRATULAZIONI Sax747!! CONGRATULATIONS SlideRule!
Race Leaderboard
Commentary
There were a few storms that crossed near Boston, and a number of windows looked promising, including attempts with a start time around 20 January, 6pm as well as 23 January, 10pm and 24 January, 10pm. The best runs had to keep close (but not too close!) to the eastern coastline of Cape Cod, then weave through the islands on either side of Vineyard Island.
But there was this particular window on 29 January that materialized. With 30 knots of wind from the NE, this enabled a high speed downwind run all the way from Boston to Newport. Many SOLers posted times between 6:14 and 6:16. However, three SOLers managed to inch that little bit ahead of the others to claim the podium. These were Kipper1258 starting at 9pm and finishing in 6:12:27, Sax747 who started at the exact same time but finishing 54 seconds behind, and SlideRule starting earlier at 8.20pm and coming in a valiant third a further 38 seconds adrift. Well done!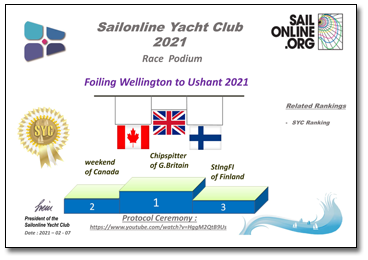 click on results image to see larger
CONGRATULATIONS Chipspitter!!!
CONGRATULATIONS weekend!! GRATTIS StIngFI!
Race Leaderboard
Reports

Commentary
The results are finally in for this extraordinary ocean race from Wellington to Ushant in our new foiling IMOCAs. What a race it was and what an endurance test!!! Congratulations to all who managed to finish - most sailing for upwards of a month.
It turned out to be a race of many parts and the fleet split into a number of groupings across the Southern Pacific, then the Southern Atlantic and again finally for the long run home from the Equator up to Ushant.
For those who'd like to read of the joys and sorrows of long ocean racing, then we heartily recommend SOLer weekend's report!! A very entertaining read!!!

Races
Next Race: 00d 00h 00m
---
Current Races:
Bora Experience 2021
Visit the Adriatic Sea for Bora Experience 2021.
Bora winds are feared by local sailors and tend to blow most strongly during the winter months, reaching record speeds above 200 km/h (125 mph). In our virtual Seascape 18 we fear not, and you are invited to race from Venice to Dubrovnik, navigating between the islands along the Croatian coast.
Race #1448
INFO by brainaid.de
Seascape 18 PARTICULARS
WX Updates:
0430 / 1030 / 1630 / 2230
Ranking: SYC
Race starts: Feb 27th 16:00 Registration Open!

GO TO RACE
New Hebrides Slalom 2021
Welcome… back to the carved-out coastal backdrop of New Caledonia's opencast nickel mines, for a quick getaway in elegant Italia 14.98's to the islands of the Coral Sea across the Loyaute Basin and on via a mazy zig-zag north to a finish line in exotic Vanuatu's Big Bay. Only 578nm; enjoy!
Race #1425
INFOby brainaid.de
Italia 14.98 Particulars
WX Updates:
0430 / 1030 / 1630 / 2230
Ranking:
SYQ1 - SYCCH - SUPSOL - SYC
Race starts: Feb 23rd 18:00 Registration Open!

GO TO RACE
Lady Barron's Dogs 2021
Top right above Tasmania lies the Furneaux Group and between its main two islands of Cape Barren and Flinders we find Franklin Sound, named after intrepid navigator Sir John Franklin, KCH FRS FLS FRGS, Lieutenant Governor of Van Diemen's Land (Tasmania) from 1837 to 1844, in between his first three and his final and fatal expedition to seek the North West Passage on the other side of the world. Lady Barron is the Group's main town and several of the islets in the Sound are known as Dogs, and so SRC stalwart Renegade invites you to come and 'walk the dogs' – 26nm in MC38s. Woof!
Race #1424
INFO by brainaid.de
MC38 PARTICULARS
WX Updates:
0430 / 1030 / 1630 / 2230
Ranking:
SPRQ1 - SPRCH - SUPSOL - SYC
RACE CLOSE: Thursday,
February 25 at 2300 UTC.
Race starts: Feb 20th 19:00 Registration Closed

GO TO RACE
Pacific NW Inshore 2021
Welcome to our generally biennial 137nm SOL Classic, from Seattle to Vancouver, past historic Port Townsend, home of the famous wooden boat festival, then on past Whale Watch Park where there is often a pod of orca whales to be seen, continuing on round and through the beautiful San Juan Islands Nature Reserve and then up into the Strait of Georgia for a finish in English Bay. This year in J-122s, flying gennakers downwind when the usually fitful nam_awip winds permit!
Race #1447
INFO by brainaid.de
J-122 PARTICULARS
NAM_AWIP WX Updates:
0245 / 0845 / 1445 / 2045
Ranking: SYC
RACE CLOSE: Saturday,
February 27 at 2300 UTC.
Race starts: Feb 16th 17:00 Registration Closed

GO TO RACE
Aland Sea TIMED Race 2021
Norrtalje Segelsallskap, 70km NE of Stockholm was founded in 1920, and time was when the society's season opened with a challenging offshore race from the club line off Flaten island at the mouth of the long and narrow Norrtaljeviken, out onto a triangular course around the Aland Sea, to finish at Simpnas slightly to the north on Bjorko island - some 78nm in total. A fine race that SOL, being from these parts, ran annually up until 2013. Last run in autumn 2018, we return here to race the course again in the form a TIMED RUN in our flashy Club Swan 50s.
RE-REGISTER HERE to race again after finishing a run.
Race #1444
INFO by brainaid.de
Club Swan 50 Particulars
WX Updates:
0430 / 1030 / 1630 / 2230
RANKING:
TRQ1 - TRCH - SUPSOL - SYC
RACE CLOSE: Sunday, 28 February at 23:00 UTC
Race starts: Feb 15th 12:00 Registration Open!

GO TO RACE
CCA Delivery Cruise 1 2021 - Sandwich MA to Halifax NS


The Cruising Club of America invites you to join them on a (virtual) delivery cruise starting from Sandwich, Massachusetts, the oldest town on Cape Cod in the USA to Halifax, Nova Scotia, Canada, some 354nm away. Once we clear the tip of Cape Cod at Race Point our rhumb line course will be 70 deg T for 225nm across the Gulf of Maine to Cape Sable NS, so the best delivery departure window for sparing the crew and gear pounding into a northeast winter gale across Browns Bank will likely be following a frontal passage with strong favorable westerly winds. You may choose one of two boats, both tailored for cruising and new to Sailonline's boathouse, so flip a coin, study their Particulars sheets and make ready! You may start at any time after 1900utc on 8 February 2021 and you must arrive in Halifax by 4 March at 2300utc.
Race #1417
INFO by brainaid.de
Santa Cruise 52 PARTICULARS
Passport Cruise 40 PARTICULARS
WX Updates:
0430 / 1030 / 1630 / 2230
RANKING: NONE
Race starts: Feb 08th 19:00 Registration Open!

GO TO RACE
Haifa to Sao Vicente - 2021 ESRW - Leg 1
Welcome to bonknhoot's alternative round the world race, there where it is wide, in six legs, following the setting sun – the ESRW Equatorial Sailonline Round the World Race; equatorial to differentiate it from more traditional antarctical circumnavigations. Expect then to cross the equator frequently, although on this 3500nm first leg from Haifa to the Cape Verdes in Ker 40s you should probably stay north of it. Being a proper ocean race, there are no intermediate waypoints, but please try to leave Tangiers to port anyway.
Race #1427
INFO by brainaid.de
Ker 40 PARTICULARS
WX Updates:
0430 / 1030 / 1630 / 2230
Ranking: ESRW - SYC
RACE CLOSE: Thursday,
March 4 at 2300 UTC.
Race starts: Feb 05th 16:00 Registration Closed

GO TO RACE
SYC Ranking
Series
Mobile Client
SYC members have the benefit of access to our mobile/lightweight web client!