Online Sailracing!
Sailonline.org is owned and operated by Sailonline NavSim AB, a not for profit, community-owned company.
Sailonline's mission is to offer a superior internet-based sailing and navigation simulation to the global sailing community, whilst ensuring a future of growth and continuous enhancement to benefit its users through financial viability and long term vision.
All Sailonline boats and their properties are purely virtual and do not necessarily reflect real world data.
Sailonline is free for everyone to play and is supported by SYC Memberships.
Create your account
News from the blog
Welcome!
Now login with our guest account to view currently running races: Username: guest - Password: guest
PLEASE ONLY REGISTER YOUR OWN USERNAME AND PASSWORD IF YOU INTEND TO RACE.
All times on Sailonline are in UTC

GDPR - General Data Protection Regulations - Sailonline wishes to reassure all SOLers that it is aware of the regulation changes in relation to the protection of personal data. Sailonline cares about your privacy and will continue to let you control the personal information you provide. More info here
Sailonline is delighted to be partnering with Point Yacht Club for the 2021 version of the South African classic Vasco da Gama Ocean Race. The Vasco da Gama Ocean race is Africa's oldest ocean coastal race and over the years it has been run over courses from Maputo, Mozambique to Port Elizabeth, Durban to Port Elizabeth and Durban to East London. Because of #COVID19 restrictions the 2021 will be a wild and woolly downhill sleigh-ride along South Africa's Wild Coast so-named because conditions along the coast are invariably wild and dangerous.
While the real fleet will be made up of several boat-types, Sailonline's racers will be racing their Farr 38 Polar and doing their best to beat the best in the real event. It is also hoped to bring the tracks of the real yachts on-screen which not only adds to the sense of competition, but also shows how the navigators in the real fleet have to adjust to local conditions.
Sailonline's race will start on Sunday, 16 May 2021 at 0900utc and the race will open for practice on Tuesday, 11 May, also at 0900utc.
Downloadable GE Guided Tour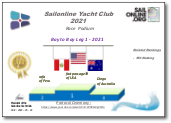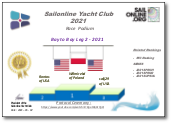 click on results images to see larger
CONGRATULATIONS fastpassage39!!!
FELICIDADES Rafa!! CONGRATULATIONS Dingo!
GRATULACJE WRmirekd!!!
CONGRATULATIONS Rontos!! CONGRATULATIONS sailj29!
Race 1 Leaderboard .
. Race 2 Leaderboard
Reports

Commentary
The winds were from abeam to abaft and kind for the Bay-To-Bay races on The Great Sandy Strait again this year, and, despite the intricacies of hires UCAR/NCAR wind, online, straight lines from can to can were generally best. This put a premium on cornering skills, as emphasized in saij29's excellent report under the button above. It is the very unusual SOLer that always gets his roundings spot on, and, year-to-year and race-to-race, it is rarely the same one, so as so often in the past, six different names decorated the podium.
This year, race 1 went to the USA's FastPassage, and indeed, American sailors were to the fore also in race 2, the one that mattered as it was a counter towards the Sprint Championships, which was won for the second year in a row by Poland's WRmirekd. A bleary-eyed well done, that man!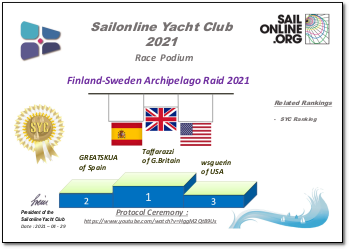 click on results image to see larger
CONGRATULATIONS Taffarazzi!!!
FELICIDADES GREATSKUA!! CONGRATULATIONS wsguerin!
Race Leaderboard
Reports




Commentary
In 2013, two SOLers, JakeS and Smo, created a virtual version of a real race between the islands of the Swedish and Finnish archipelago. Contrary to the real race, which involved three overnight stops, the virtual version is a non-stop race. Both versions require incredible determination and condition from participants.
Many players, took longer or shorter tactical breaks by choosing one of the many islands. After all, everyone who finished this crazy race deserves praise and those who stood on the podium should be treated with admiration for their madness.
The difficulties of this race are evidenced by the data presented below:
151 crews joined the race and only 70 finished.
Our winner, Taffarazzi, covered the 484.7 nm route, also taking advantage of several regeneration stops in 89h 59m 26s.
TOP 10 is closed by the brewman, 15h 32m after the winner.
You will learn about the details from the submitted reports. We invite you to read.
Congratulations to all finishers. Well done podium!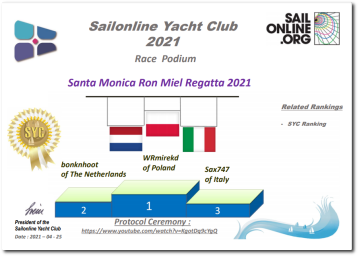 click on results image to see larger
GRATULACJE WRmirekd!!
GEFELICITEERD bonknhoot!! CONGRATULAZIONI Sax747!
Race Leaderboard
Commentary
144 Boats took the start of this demanding 1200 NM race in and around the Canary Islands. Relatively short stretches between waypoints didn't promise much easy sleep and extended coastal passages required precision steering. The race became more open around the halfway point, when doldrums caused boats to spread out in different directions. But in the end it were three experienced SOLers that prevailed with WRmirekd finishing first after a little over 5.5 days of sailing. Bonknhoot took second place, about 3 minutes behind, and Sax747 completed the podium.
116 Participants reached the finish. Congratulations all!

Races
Next Race: 00d 00h 00m
---
Current Races:
Hauraki TIMED Race 2021
The Hauraki Gulf is a virtual home-from-home for Sailonline as in the course of the racing year, a number of races start from Auckland. This 35nm course was part of a SSANZ series in the past and as it is fun to race, we have "borrowed it". This is a TIMED race, so that you can practise racing the Gulf in anticipation of future races here and, quite possibly, also set the fastest run here!
RE-REGISTER HERE to race again after finishing a run.
Race # 1472
INFO by brainaid.de
Young 11 PARTICULARS
WX Updates:
0430 / 1030 / 1630 / 2230
Ranking:
TRQ2 - TRCH - SUPSOL - SYC
RACE CLOSE: Sunday, 30 May at 23:00 UTC
Race starts: May 17th 12:00 Registration Open!

GO TO RACE
Vasco da Gama Ocean Race 2021


Point Yacht Club welcomes Sailonline to the 2021 running of the classic Vasco da Gama Ocean Race. This race is the oldest established international sailing event in South Africa and traditionally starts in the bay of Maputo, the old Portuguese colonial capital of Mozambique and finishes in Durban. This year, the race will be a run of 249nm from Durban to East London, through the glorious marine reserves off South Africa's Wild Coast.
Race #1446
INFO by brainaid.de
Farr 38 PARTICULARS
WX Updates:
0430 / 1030 / 1630 / 2230
Ranking: SYC
Downloadable GE Guided Tour
Race starts: May 16th 09:00 Registration Open!

GO TO RACE
Bimmer Memorial Race
It will come as no surprise that when we recently learned of the sudden death of SOLer and Danish OPS Admin Bimmer our thoughts quickly turned to running a Viking longship race in his memory. Not that long ago, Bimmer had moved house, to Svendborg from Copenhagen, so let's follow in his steps by racing this newly designed course. After leaving Copenhagen, you have the choice of racing the c. 145nm south- or north-about the Danish island of Sjaelland to the finish in Svendborg. As Bimmer was a QtVlm aficionado, everyone is encouraged to route their longship this time!
Race #1471
INFO by brainaid.de
Longship Draken PARTICULARS
WX Updates:
0430 / 1030 / 1630 / 2230
Ranking:
NONE
Race starts: May 14th 18:00 Registration Open!

GO TO RACE
ESRW3 Panama to Honolulu 2021
While you were still hanging out at the bar yarning about the Colon leg, our luxurious Gunboat 90s have been delivered to Panama ready to race the 4600nm third leg of our fabulous equatorial round the world race (ESRW) to Honolulu - quite the cocktail run this one!
PRIZE: SMPF
Race #1469
INFOby brainaid.de
GB 90 PARTICULARS
WX Updates:
0430 / 1030 / 1630 / 2230
Ranking: ESRW-OCQ2-OCCH-SUPERSOL-SYC
Race starts: May 02nd 18:00 Registration Closed

GO TO RACE
SYC Ranking
Series
Mobile Client
SYC members have the benefit of access to our mobile/lightweight web client!